Imagine a back-country ski route stretching in a large arc between the groomed trails at Madawaska Nordic and the trails at Dacre Heights. The 38km distance is significant, and the rugged terrain and rampant vegetation make passage difficult in spots. Yet there are numerous trails that wind through this area, and the Madawaska Highlands are largely unspoiled. A carefully planned route could be a wonderful and challenging ski.
Skiing from Dacre to Calabogie is hardly a new idea. Ask any older local and they've either done it or they know someone who has. Thirty years ago, when Dacre Heights was operating, skiers could catch a lift to the top and then navigate through some farm fields and snowmobile trails over to a long string of lakes. Following the lakes led to the unplowed section of Kennelly Mountain Road which brought them to the old Club 45 hunt camp. Then, a series of logging roads and ATV trails would take them to the Calabogie area. The route was direct, easy to navigate, largely cleared, and almost all through private lands. Unfortunately, numerous "No Trespassing" signs have sprouted up since that time.
In 2017 a new route was envisaged. Much longer than the original route, it avoids all private property by remaining exclusively on crown land and a few unopened road allowances. The location is isolated, the terrain is challenging, and some of the hills are suited to expert skiers only. Portions of the route are now mapped, cleared, and blazed. Beyond the Mad Nordic trails none of it is groomed.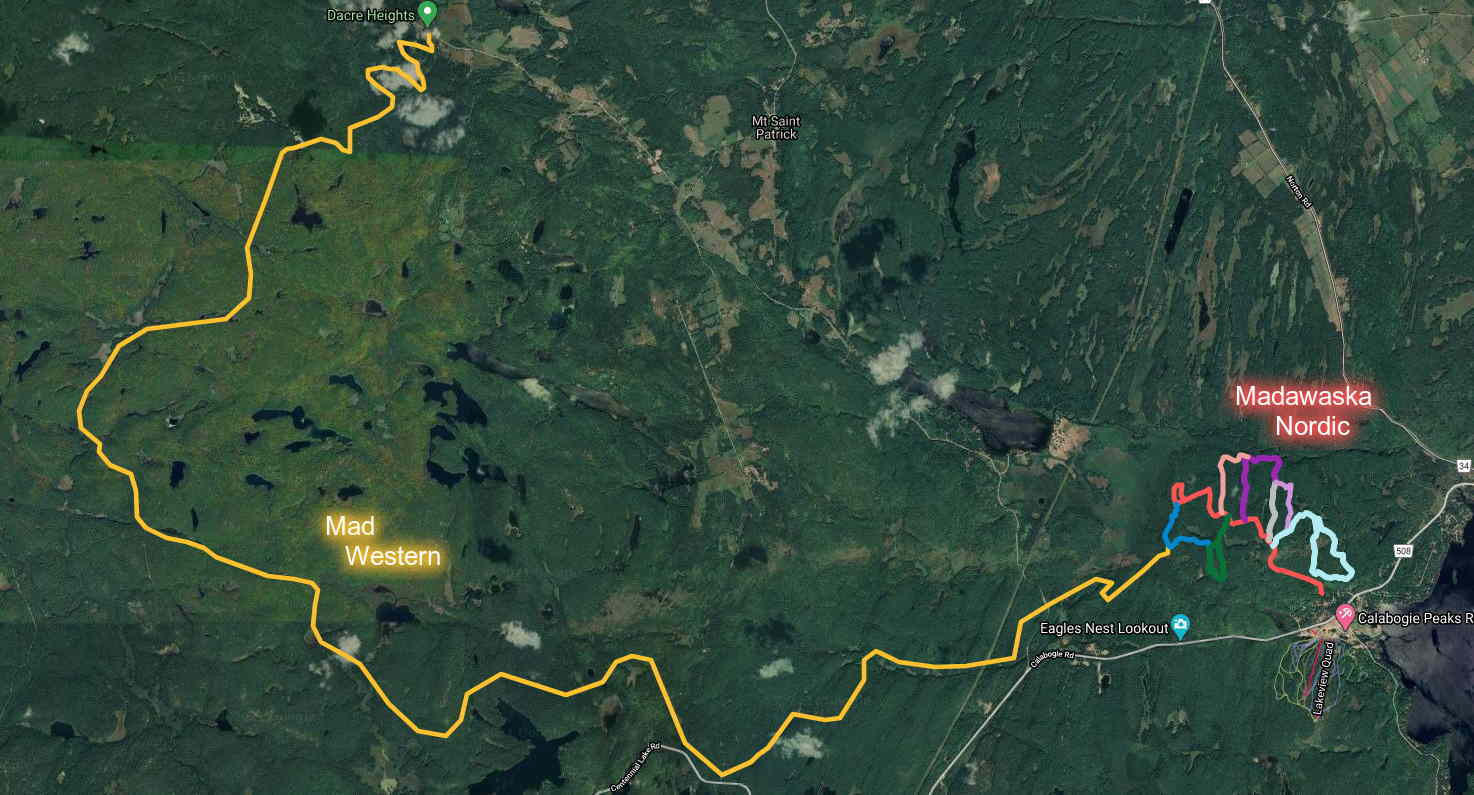 Mad Western back-country ski route
---
Mad Western has three distinct sections, which are described below. It can be accessed by vehicle from either end as well as three intermediate locations, two of which offer parking. The names of the sections and trails are provisional. Cell coverage is intermittent, so preloading of map data is advised. As of 2021 roughly half of the trail has been cleared and is ready for use.
Fergus
The easternmost section begins at the Madawaska Nordic's parking area on Crestview Drive. It follows Red Pine all the way out to the loop, and then Blue Jay for a few hundred meters to the Fergus trail. This trail passes among some destruction caused by the 2018 tornado, and soon dips down to crosses a small arm of the Constant Creek swamp through a narrow path. This swamp, although magical, is difficult to traverse so the going is slow. After emerging from the swamp the trail climbs up and over a large hill with a challenging descent. It then crosses a stream to follow an old logging road that connects to Ferguson Lake Road. Total distance from the Mad Nordic parking area on Crestview Drive to Ferguson Lake Road is 6.6 km. Parking is possible at this location just where the road widens.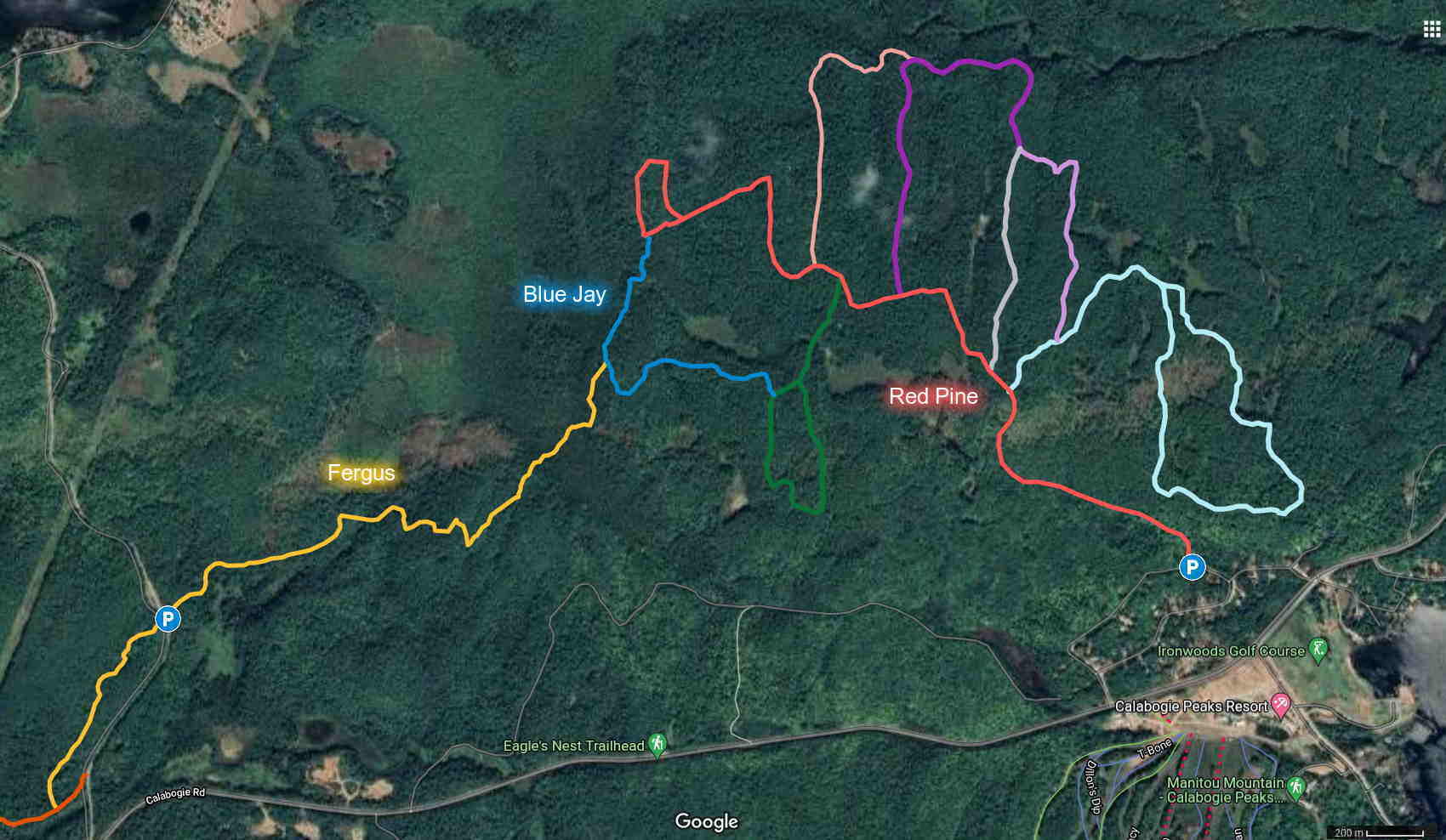 Fergus section
Red Pine
3.6 km
Groomed ski trail
Blue Jay
0.6 km
Explored
Cleared
Blazed
Signed
Fergus
2.5 km
Explored
Cleared
Blazed
Signed
Mountainside
The second section includes four trails which cover a distance of 7.4km between Ferguson Lake Road and Centennial Lake Road. After crossing the road, Fergus leads another 800m to connect to Woody's. This old hydro road and dirt bike trail climbs over a few hills as it follows alongside a creek for a little over 2km before reaching Mountainside Hunt Camp. (This hunt camp is privately owned, but located on crown land. Daytime and overnight usage for skiers is in the works!) The next trail, Pipe Dream, leads south from the camp. After crossing a small creek, it climbs a long and gentle rise, and then descends into a series of small swamps. Eventually it joins an old logging road and the route turns right. The Shaw Road trail is gently rolling for almost 2km, and terminates after a long gentle descent at Centennial Lake Road. There is a small unplowed parking area at the end of Shaw Road, and limited parking is possible a few dozen meters from this location along Chimo Road South.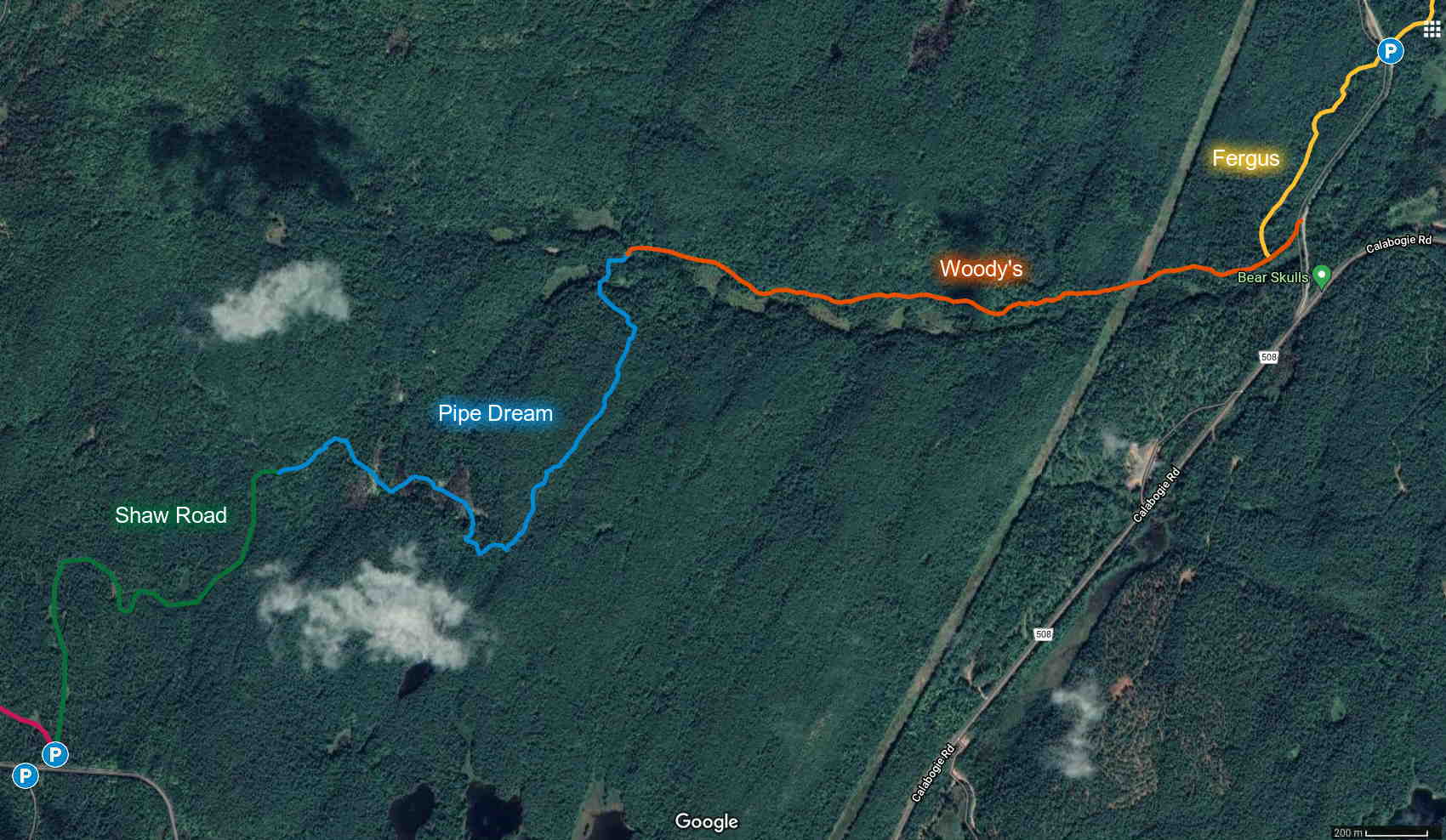 Mountainside section
| | | | | | |
| --- | --- | --- | --- | --- | --- |
| Fergus (part 2) | 0.8 km | Explored | Cleared | Blazed | Signed |
| Woody's | 2.4 km | Explored | Cleared | Blazed | Signed |
| Pipe Dream | 2.4 km | Explored | Cleared | 95% Blazed | Signed |
| Shaw Road | 1.8 km | Explored | Cleared | Blazed | Signed |
Jackrabbit
PART OF THIS SECTION IS CURRENTLY CLOSED because of access problems. There are ongoing disputes with two adjacent landowners about the location and usage of the public road allowances.
This final and most challenging section requires navigation by GPS. At 23km it is by far the longest section of the route. The first two trails navigate between the private lands straddling Kennelly Mountain Road. Parts of the central portion are not yet explored.
Starting from the Shaw Road clearing, Whoa Nelly immediately branches left before traversing down a large and very steep hill masquerading as a cliff. Much of the traverse is skiable, but one short switchback is extremely challenging. At the bottom of the hill the trail quickly enters an unopened road allowance. The land on either side of the trail is private property, so please stay on the trail. The large swamp just before Kennelly Mountain Road may not be completely frozen over in the early winter. Although Kennelly Mountain Road is winter maintained, it is quite narrow so parking is not possible at this location.
Picking up directly across Kennelly Mountain Road, the Gateway trail continues through the remainder of the road allowance. It then loops west (turn left at the microcabin!) through open woods over rolling terrain. Less than a kilometer later it plunges into a cedar swamp to enter another short road allowance before emerging into a large tract of crown land that stretches most of the way to Dacre Heights.
Green Lake trail veers south to follow an ATV trail leading to Green Lake, whereupon it swings west at the Y to follow another ATV trail above the north shore of Green Lake. The trail continues to the northwest over a series of small hills before reaching the base of Silver Cross mountain. (The ATV trail continuing up and quickly branching left up the mountain is quite approachable on skis and leads to a great view overlooking from Green Lake below to Manitou Mountain in the distance.)
Mud Lark trail departs to the north from the ATV trail and then enters the extensive marshlands along the north shore of Mud Lake. After leaving the marshlands it leads to an ATV trail.
The Ogopogo trail follows an ATV trail over rolling terrain winding its way past Black Lake, Joes Lake, and Moran Lake. It ends at a Y intersection.
The next 4 km are quite remote and unexplored.
The second to last trail, Lynx, follows an unopened road allowance up a large hill through some open deciduous woods. It then sweeps down the other side of the hill through a small block of crown land before re-entering the road allowance for the final kilometer to Dacre Heights. Lynx connects near the top of Firefly, which offers an easy way down almost six hundred feet of elevation through a series of switchbacks across the ski slopes. Parking is available at the base of the hill.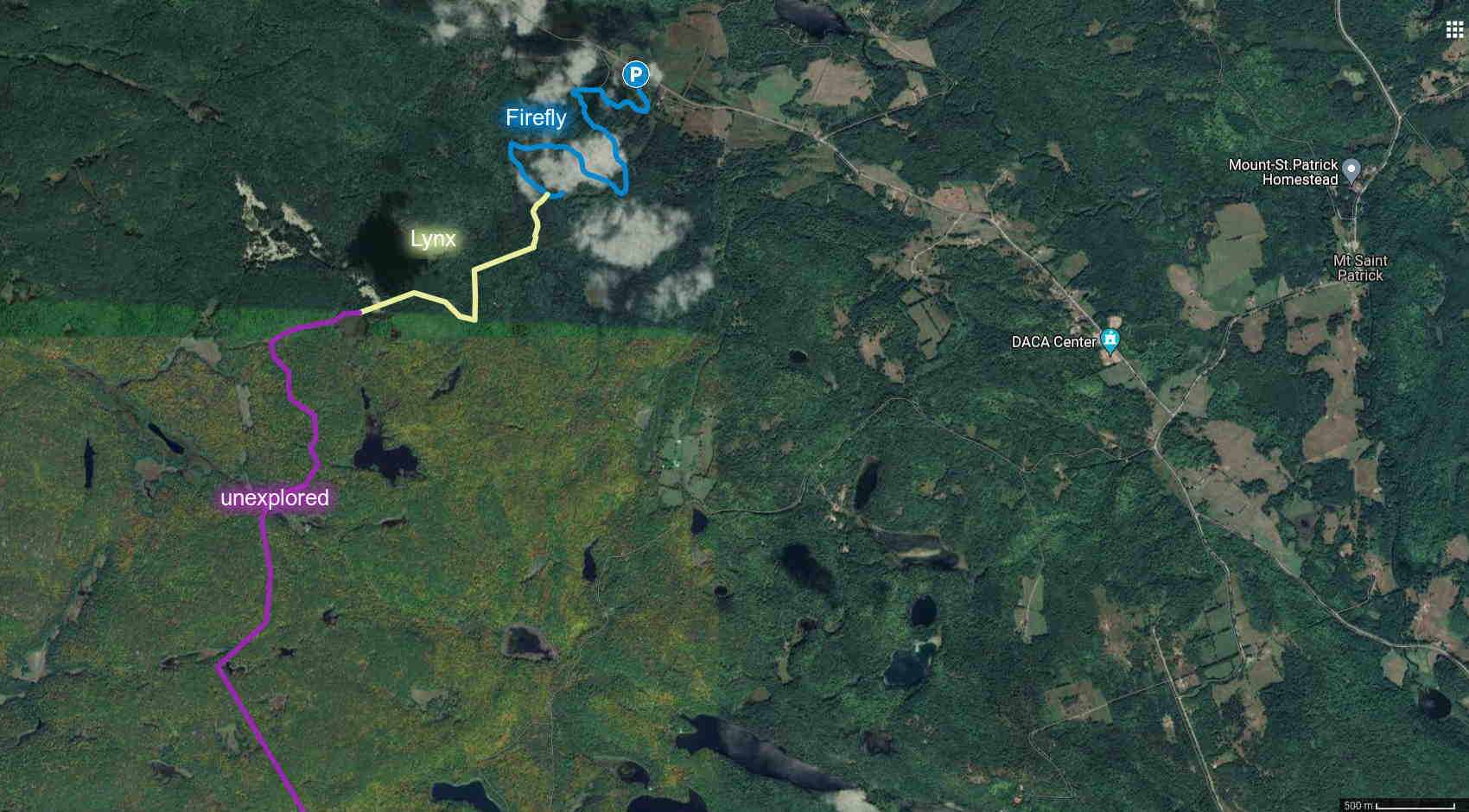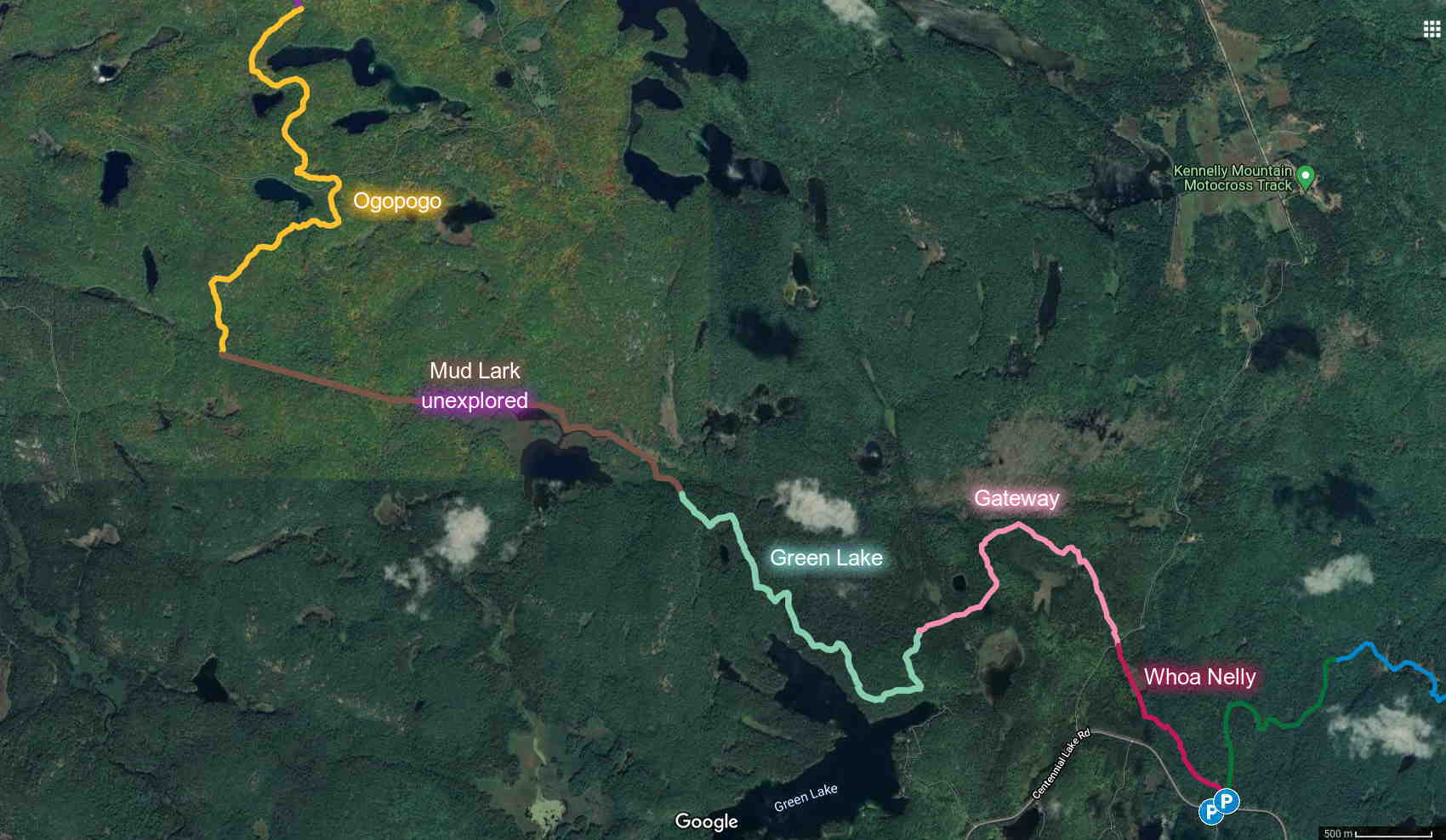 Jackrabbit section
| | | | | | | |
| --- | --- | --- | --- | --- | --- | --- |
| Whoa Nelly (closed) | 1.3 km | Explored | Flagged | 90% Cleared | 20% Blazed | Signed |
| Gateway (closed) | 2.0 km | Explored | Flagged | 60% Cleared | Blazed | Signed |
| Green Lake | 3.0 km | Explored | Flagged | Cleared | Blazed | Signed |
| Mud Lark | 3.4 km | Explored | Flagged | Cleared | Blazed | Signed |
| Ogopogo | 3.9 km | Explored | Flagged | Cleared | Blazed | Signed |
| unexplored | 4.3 km | Explored | Flagged | Cleared | Blazed | Signed |
| Lynx (closed) | 2.0 km | Explored | Flagged | Cleared | Blazed | Signed |
| Firefly | 3.0 km | Explored | Flagged | Cleared | Blazed | 50% Signed |
Maps and GIS data
A map of Mad Western is available
here
.
The following GIS files are available (KML format).